Builder of cyber careers, veteran transitions, and decadent desserts
Tymeeka Middleton considers herself a builder, whether it's developing curriculums for cyber security training for manufacturers, helping build up veterans as they transition from active duty to civilian careers, or baking desserts. 
She is the Director of Education and Workforce Development at the Cyber Manufacturing Innovation Institute (CyManII) in San Antonio, TX. Tymeeka calls herself a glorified trainer, which does not do justice to her vision and ability to execute what she developed in her military career. 
Today she creates pathways to help train and educate the manufacturing workforce to be cyber-literate in terms of information technology (IT) such as networks and operational technology (OT), which involves manufacturing machines and processes. Her ongoing cyber work includes the Industrial Internet of Things (IIoT), control systems for automation, and critical infrastructure for networks and manufacturing. 
These are just a few of the technical building blocks she's providing to the manufacturing workforce and to those who serve to further their careers in advanced manufacturing.
"I love to develop things, build programs, build teams, build a center. People here empower me to do things. I love having a big idea, and having the freedom and flexibility to make it happen."
From Army Officer to HR
Tymeeka understands what it means to serve and the importance of building up others as part of a team. She was an active-duty officer in the U.S. Army for eight years, serving as a Combat Arms Officer, two stints as a Company Commander, and finishing her career as a Combat Service Support Officer. 
After her military career, she worked in the Human Resources sector, where she built diversity and inclusion programs, recruitment and retention programs, and employee readiness groups in large organizations with a focus on attracting, recruiting, and retaining military veterans in the workforce. Her unique background and skill sets led Tymeeka to be selected to lead the workforce development efforts for the Department of Veterans Affairs' Cybersecurity Apprenticeship Program.
Building Up for Industry
Tymeeka began working in organizational development and change management at the University of Texas at San Antonio, which launched the CyManII institute in 2020. The opportunity to lead the workforce development efforts at CyManII was the perfect fit for her builder instincts and gave her the chance to develop programs that could help build up others in the manufacturing industry.
"I was excited about the experiential learning potential, how we can get more hands-on training to small- and medium-sized manufacturers," Tymeeka said. "We built a cyber range. It's a learning center on simulated PLCs (programmable logic controllers - computers used for industrial automation) so people in training could witness a hack and see what it was like in real time." 
"I love to develop things, build programs, build teams, build a center," she said. "People here empower me to do things. I love having a big idea, and having the freedom and flexibility to make it happen."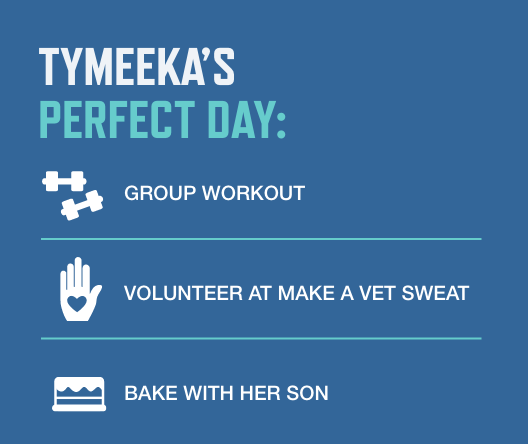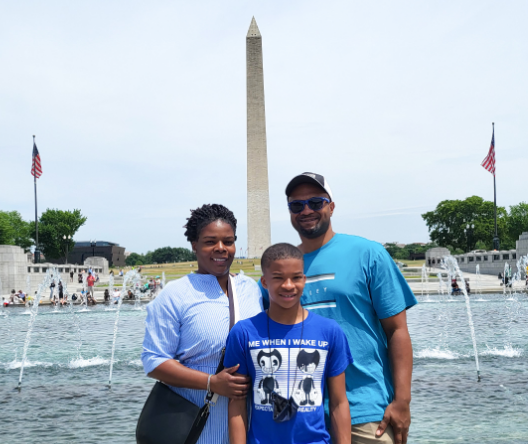 A Passion for Helping Veterans
Tymeeka is pursuing her Ph.D. in Education, with a focus on adult learning, and plans to use this degree to continue to help organizations provide effective training for veterans transitioning to civilian careers. 
She is passionate about volunteering for Make a Vet Sweat, a central Texas non-profit with a mission to get veterans into gyms to use exercise to combat the hidden wounds of Post Traumatic Stress Disorder (PTSD). Through the non-profit, she provides free resume reviews and job interview preparation for veterans seeking employment in the private sector.
Tymeeka is also a member and volunteer for the Wounded Warrior Project. She is always looking for new ways to build up those who have served their country.
Empowering Manufacturers With Knowledge
Tymeeka sees one of her key roles as bringing awareness to the operational technology side of manufacturing, and educating others on the threats to the industry. "We have worked with small manufacturers that have been impacted by cyber attacks and they weren't aware of the extent of the threats and weren't prepared. We're putting them in a position to be able to respond to threats and mitigate risks."
CyManII is one of 16 innovation institutes in the Manufacturing USA network, so Tymeeka is part of a bigger mission. She is able to work with education and workforce development experts (EWD) across the network.  
"We are a diverse mix of institutes doing different things with different technologies, but we have the same mission of preparing the workforce." 
The EWD experts are touching end users at each of their respective institutes, and they are working together with other institutes to talk through issues, share best practices, and benchmark their efforts. Collectively, these partnerships are helping to harness the power of technology to build up the manufacturing industry, while mitigating technology threats.
Baking Taps Into Her Creative Side
In her spare time, Tymeeka loves to cook. She says her mom was quite the cook, but she did not like making desserts. So Tymeeka learned how to bake brownies, cheese cake, macaroons, and more. 
"Thanksgiving is my Super Bowl." 
"I like to bake because it's a form of stress release, and it taps into my creative side," she said. "I'm a rule follower until I am not, and that applies to how I approach baking. I'm not going to make a standard pound cake. I am going to try something different. I can never perfect anything, but I still want to try something different the next time."
A Commitment to Family Travels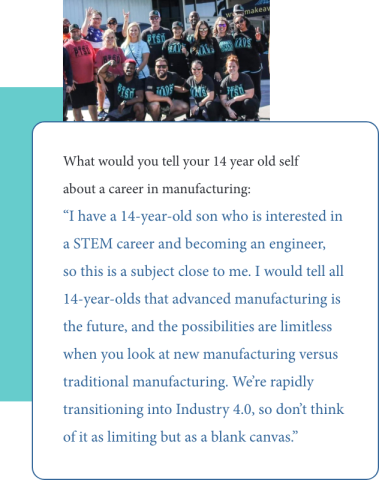 Tymeeka says she "got the travel bug" when she joined the military. Prior to her military service, she had not ventured much outside of Virginia. In fact, her first time on an airplane was flying to Seattle for training.
"My first duty station was in Germany; I just wanted to try someplace drastically different," she said. "I went to Kuwait, Saudi Arabia, back to the States, and then I went to Korea."
Once she started traveling, she wanted to see more. She loves seeing different cultures and being exposed to the places, the people, and the food. "We just went to Cancun, and while it was beautiful, I really wanted to go to the local restaurants and experience the cuisine," she said.
Tymeeka, her husband, who was also in the military, and their son are committed to traveling four times a year. They may explore close to home, across the U.S., or venture into international travel. "We do our big trip every year in December," she said. "We've been to Disney, Costa Rica, and Toronto. Our son wants to go to Japan."